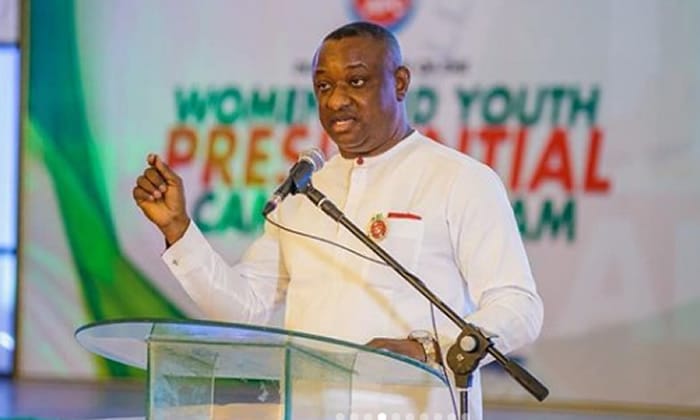 The Chief Spokesperson for Tinubu/Shettima Presidential Campaign Council and the Minister of State for Labour and Employment, Festus Keyamo (SAN) says the council had a security directorate that could handle any safety issues during the All Progressives Congress (APC) campaign rallies.
Recall that both the United States of America and the United Kingdom had on Sunday warned over the possibility of a terrorist attack in Abuja.
In a statement on Sunday in Abuja, the US Embassy announced that it would offer reduced services until further notice and urged American citizens to avoid non-essential movements.
The statement added that possible targets by the terrorists may include government buildings, places of worship, schools, markets, shopping malls, hotels, bars, restaurants, athletic gatherings, transport terminals, law enforcement facilities, and international organizations.
Also, in an advisory issued on Sunday by its Embassy in Abuja, the United Kingdom advised its citizens in Nigeria to stay alert and consider their movements carefully.
Reacting to the security threats, Keyamo said: "We have a directorate that is in charge of security. That is one of the reasons the particular directorate was set up. Any proactive steps regarding security threat, they will take care of it adequately."
The Minister, however, refused to confirm if the party would suspend its rallies because of the security advisory, saying "we have not taken any of such decision yet. But I don't think there is any cause for alarm."
On his party, a member of the APC PCC and former presidential aspirant, Nicholas Felix told The PUNCH that there was no need to suspend campaigns, advising that security should be beefed up at political parties campaigns.
Felix stated, "I don't think the alert is strong enough to want to make the APC cancel any campaign. But, of course, there will be a need to reinforce. I was just watching on TV how the DSS was telling everybody to be on alert. I want to believe every political party will take extra precaution because of this."
On the need to deploy more policemen and soldiers, the APC campaign Deputy Director for Youth stated, "We should be expecting that. But it is not strong enough to call for outright cancellation of campaigns or rallies. After all, the Federal Government did not say people shouldn't gather. It only said people should be on alert."
HottestNaija News (https://staging.hottestnaija.com/) – Latest and trending news in Nigeria & around the globe